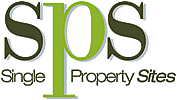 The single property website is coming of age! When these marketing tools were first developed a few years ago, they were primarily positioned to help Agents impress Sellers and help them win the listing contract. Of course, being able to do this for FREE is always a great help to the cash-strapped agent, and this has always been one of the core values of Single Property Sites. Our Site Builder Wizard helps any one of any technical skill level, to get a site built in a few minutes.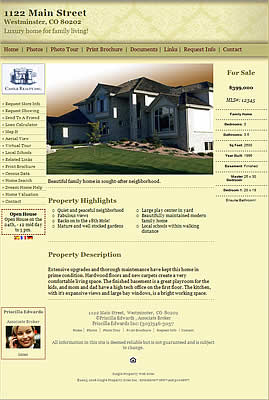 So, armed with a beautiful looking and content rich property website, any agent can now impress the socks off their client and win the listing contract.

However, in todays market - the challenges have shifted, its not just about winning the listing, the pressure now is to find effective methods to hasten the sale of the property by getting as much exposure as possible for that listing.

This change of needs has been paralleled by the development of new web services and portals to market real estate listings - specifically Trulia and GoogeBase. These portals are the leading ones in a collection that is transforming the consumers ability to gain access to listings, and also changing the way agents and brokers promote their listings. Gone are the days when REALTOR.COM was the only game in town. Now we see significant competition from these new ventures.

But, I digress! The main point is that having created the Single Property Site, we now have a set of comprehensive data representing the listing , not just the basic listing data, but demographic and pertinent local and other property related data - all inside one neat package labeled with the street address URL So pushing this data out to all these additional sources and slicing and dicing it into many formats is now an obvious extension to the Single Property Sites service.

This is why we are launching our Listing Promotion Engine as an integrated and complimentary part of the SPS service package.

Our aim is to allow agents to use our service freely to win the listing, and then, with the contract signed, click a few buttons and see the property given the maximum exposure across the whole of the world wide web. This is a free service for any clients with Active single property websites. We are also able to automatically send the Single property site URL as a virtual tour link to Realtor.com's PicturePath program so that the Red Spinning House virtual-tour link for your listing is now your single property site. And finally, to continue this theme, all sites can be made virtual tour links with any MLS either as a full featured website, or a cut-back, 'no-promotion' version to comply with MLS rules on such virtual tour links.

With the provision of these capabilities, in an easy to use system like Single Property Sites, Agents now have a rich function marketing tool that is going to help to both win and sell the listing!

If you are an existing client - then check out the HELP area - search HELP for "google", or "MLS" and you'll see the articles explaining how to do all this.

If you are interested in trying us out, simply go to http://www.SinglePropertySites.com and click the START NOW button and with your free trial account set up immediately, you will have your first site built in a few minutes!

See you there!