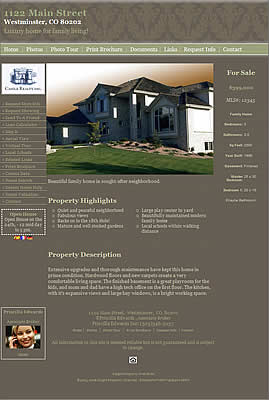 You know the saying - "A picture is worth a thousand words"? There is no disputing that images elicit more response that text alone. This is the philosophy behind the creation of the virtual tour. When you consider advertising in general, there is power behind offering your buyers compelling images
We developed Single Property Sites so you can offer your sellers a professional showcase for their home. You become the expert in marketing their property on the web - and you do so in style. We know that your potential clients are familiar with virtual tours/photo tours. It is common to see a virtual tour with nearly every listing. Your potential seller will most likely expect a virtual tour in order to market their site. But why stop there? Differentiate yourself and give your sellers a beautiful custom looking website dedicated to their property!

Impress your sellers with a showcase that includes:
A unique URL Domain Name that is the same as the street address
(e.g. www.1122MainStreet.com)

Photo Tours with an unlimited number of photos

Links to Useful Websites in the Community, Maps, Loan Information, and Market Information
Documents Page to Upload Floor Plans, Disclaimers, HOA Guidelines, and Other Important Information
Print Brochures for Distribution and Print Marketing
Home Page with Property Details and Highlights
Open House Information Display
"Request A Showing" Contact and Lead Generation Form
"Request More Information" Contact Forms
Listing Agent Information and Credentials
Free Automated Promotion Services to Google base, TRULIA and others

Automated Search Engine Submission
Website Statistics - Track Visits to the Site and Specific Page Visits
Single Property Sites offers a complete, comprehensive approach to marketing your sellers home - and it only takes minutes to create! In addition to the website and promotion services, we can also help with Sign Riders which promotes the street address Domain Name to drive-by traffic at the property itself.

Take your potential listings to the next level - your sellers will be amazed at what you can offer. If a picture is worth a thousand words, give your sellers a thousand words and much more!